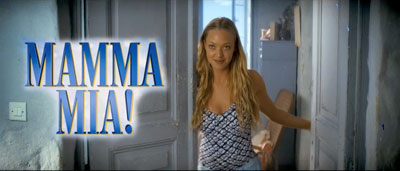 Meryl Streep and

Pierce Brosnan

leads an all-star cast in this film version of the well loved musical that captivated millions of people around the world. This Summer of 2008 brings the timeless lyrics and melodies of well loved super group ABBA in the big screen under the title

Mama Mia

.

The movie is produced by

Judy Craymer

, written

Catherine Johnson

and directed by

Phyllida Llyod

. They are same three that created the smash stage hit of

Mama Mia

and now has brought it to the big screen.

Pierce Brosnan, Stellan Skarsgard , Colin Firth, Christine Baranski, Julie Walters, Amanda Seyfried, and Dominic Cooper join Meryl Streep in this comic movie about a mother, her daughter, and three possible fathers.

A single mother and hotel owner Donna ( Streep ) is about to let go of her spirited daughter Sophie ( Amanda Seyfried ). For the wedding Donna has invited her three best friends and former band mates, Rosie ( Julie Walters ) the an author of best selling cook book and wealthy, sexy, multi-divorce Tanya ( Christine Baranski ). Unknown to Donna, Sophie has also invited three men from Donna's past in hopes that she will finally find answer to the big question that has astonished her through the years, who is her father? And have him walk her to the aisle. With an amazing song and dance moves base on the well love music from ABBA from " Money, Money, Money ", " Dancing Queen " to " The winner takes it all " and " I had a dream " this movie which was set on a beautiful Greek island over the majestic Mediterranean back ground will celebrate the glories of possibilities, acceptance, and love between mother and daughter, friends and new family the audience around the world will enjoy.